The Sexiest Things to Say to Your Girlfriend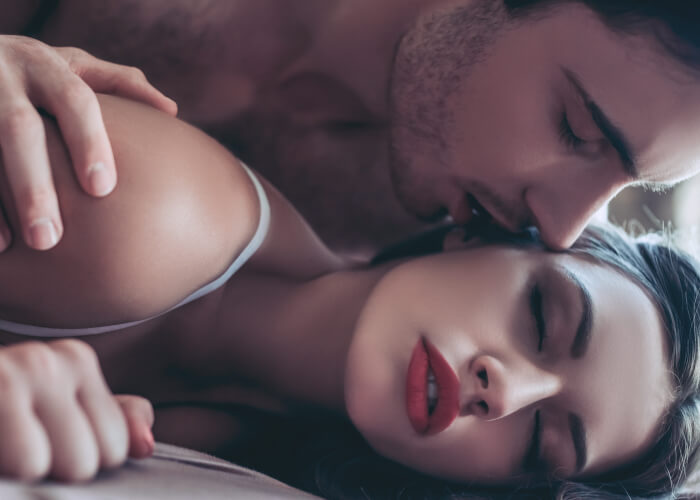 Would you like to know how to turn a girl on verbally? Then you're not alone! Many men would love to find out how to arouse women with their words. Words can be a very strong aphrodisiac for a woman, with the right lines allowing you to turn her on at any time of the day. What's great is that there are some that work for most ladies out there. Words that make her feel sexy, wanted, and desired are a universally trigger for many ladies. However, it's not just sweet nothings that women like to hear. What many guys don't realize is many women find dirty talk incredibly hot. Dirty talking lines are often all that's needed to turn women on and make them want to tear your clothes off. It's an often overlooked but extremely powerful element of sex. It activates her imagination, helping bring her fantasies to life.
The Hottest Dirty Talking Lines for the Bedroom
A woman will usually love it when you dirty talk for her in the bedroom; however, it's important to choose your words carefully. Whilst perfectly executed, the dirty talk will get her going and make her want you, the wrong words will turn her off immediately. Dirty talk is quite simply a fine art that must be approached with caution. If you awkwardly stutter "your boobs are nice" in her ear as you're getting on," chances are it's not going to get her hot. If you want to know how to talk dirty to your girl, read on. Here are the best dirty things to say in the bedroom.
Tell Her How Hot She Is
Telling a woman how hot she is one of the easiest ways to turn her on. Tell her how pretty she looks or how her sexy dress is getting you hot. Mention how much you wanted her when dancing in the club. Whilst giving her compliments won't arouse her right away, they will make her feel great and make her soften towards you, opening the door to becoming intimate. After that, you can start to introduce sexual words to take things to the next level. Make it fun and light-hearted, and don't make the mistake of coming on too strong, too fast.
Tell Her What You Want to do to Her
Once you're in the bedroom, it's time to really start to ramp up the dirty talking lines. Although dirty talk between the sheets can be daunting, it can play such a massive role in getting her off. A lot of men really do underestimate the power of naughty words whilst between the sheets with a woman. Telling her exactly what it is you want to do to her will really turn her on. Ladies love feeling desired, and so letting her know just how much you want her will push all the right buttons. They want to know you're going crazy for them. Say something like, "I need you so badly right now," and watch as she gets hot for you. There are so many things to say in bed to turn her on – just use your imagination!
Kinky Sexting Ideas to Send Her
Sexting can be a lot different from talking dirty in the bedroom. After all, because you're not physically with her when you're sexting, you'll probably feel more relaxed and able to really embrace talking dirty. There are so many dirty things to say to a girl that you never would in person. Most women love sexting, with words extremely powerful tools for turning her on. When her phone buzzes and she sees that dirty message, her mind will sharpen, and her body will start tingling all over. When a woman receives a sext, levels of oxytocin (the attachment hormone) increase, intensifying feelings of pleasure and closeness and eventually sexual arousal. Most women agree that sexting is incredibly sexy! In fact, with over 74% of Americans confessing to sexting their partners regularly, it's safe to say that it's becoming more popular over time.
Top Sexting Messages to Send to Your Girlfriend
What are you wearing right now?
I was thinking about you in the shower today
Are you alone tonight?
I will see you in a while
What do you want me to do to you later?
You know how to push the right buttons
I want you to lie back and let me take care of you tonight
I'm going to ravage you the second you get in the door
I'm going to let you do anything you want to me
These are some of the best sexting messages to send to your girlfriend. They are essential previews to what will happen later, building her anticipation for when she sees you. She'll start to fantasize about getting intimate with you next time you're together. If you want to get a bit dirtier when sexting, consider these nasty things to say to your girlfriend.
I want you
What do you think about when you masturbate?
I want you to touch my [pick a body part]
I want to be inside of you now
I want to make you come hard
I want you to tease me until I can't take it anymore
When it comes to sexting, it makes sense to start slowly and build up to dirtier messages. This will build her excitement and leave her wanting more. If you want your girlfriend to tear your clothes off when she next sees you, these sexting examples for her paragraphs are ideal. As you're sexting, progress to filthy, nasty messages that won't fail to make her want you. Try sending them in the days or hours before next meet up for the best results.
Knowing how to talk dirty to your girl can be difficult, especially if you've never done it before. If you're totally new to the world of dirty talk, it makes sense to start slowly and work your way up to using filthy words to turn her on. Hopefully, this article has given you inspiration for the best kinky things to say next time you're in the throes of passion!