Learn New Ways of How to Turn a Guy On Sexually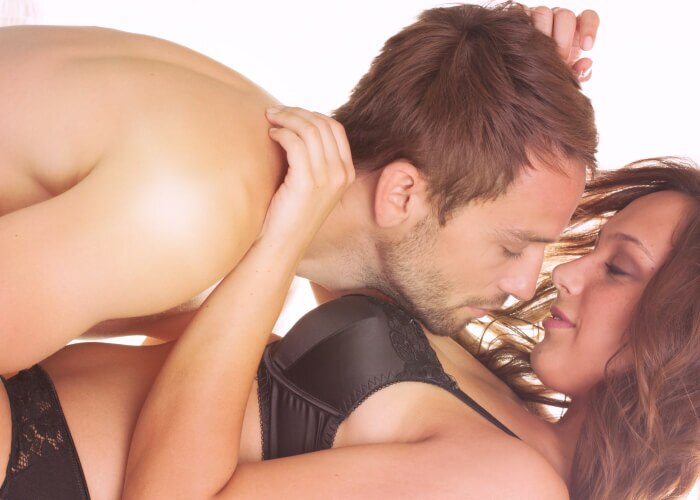 Maybe you are looking for just general affirmation of what turns a guy on and just some clarity that you are doing the right things, or perhaps you want to find new ways of how to turn a man on. While most men are fairly straightforward when it comes to turning them on in the bedroom department, there are some that prefer different things, not everyone is the same and what works for one may not work for another. Discovering what works for your man could be a matter of experimentation or asking them what they like, but let's take a look at a few ways to turn on a guy.
The Anticipation of the Event
It doesn't have to be left to the event itself to turn a guy on. You can actually drive some men crazy with the anticipation of what is to come. Sometimes just alluding to what you are going to do to them, and what they can expect, can get them in a heightened sense of arousal. You could start with text messages teasing them about what you are feeling, what you want to do to them when you see them, what you have planned for your next date and how you have something special in mind. If they are at work, they will possibly be unable to get up from their desk, so consider their environment when you are sending these texts! You don't have to go full-on temptress – just a few well-placed seductive or suggestive texts are enough.
Phone Sex is a Big Turn on for Many
While we do so many things by text these days, it can be quite hard to carry out a whole sexual exchange by text alone. Why not try phone sex – it's a great way to get intimate and learn what turns your man on by the changes in his voice and the moans and groans that he makes. For some, it can feel awkward at first, but it can also be a great way to build the anticipation and make him really horny for the next time you meet physically.
Sexy Things to Do for Your Man
There are several stages in the art of seduction and the build-up to sex. As well as teasing him with suggestive texts, you can dress provocatively. Now, bear in mind that men are turned on by different things. Some of them love a woman that dresses up as something that they fantasize about. Others just like the natural look. Nice underwear is almost always a winner, with some men loving stockings and suspenders. Black, white, red – the choice is yours, but it sometimes helps to have a bit of prior knowledge about what he likes.
Talk to Your Man about What He Likes
We don't know if we don't ask! How can you expect to know that he has specific fantasies or that something special turns him on? Discuss what he likes in bed (maybe not on the first date though) and tell him what you like as well. Being open and honest about sexual fantasies will increase the chemistry between you, and you will both be eager to please the other one so it could open up a wealth of possibilities for you both. Don't be afraid to try new things together and to discuss your sex life openly.
Give Him a Strip Tease
How far you go with this will depend on your own levels of confidence, and the setting of your encounter. If you have been building up to this moment and the chemistry is building, then start to undress for him slowly and sexually. If he is impatient to get his hands on you, then you may not get the whole way, but taking charge of the situation and pushing him down while you strip for him can only serve to really get him going and unable to keep his hands off you.
Talk Dirty to Him to Turn Him on
Men love a woman that talks dirty; however, be careful. If he is the shy type, he may feel a bit uneasy. Why not test it out? Say something dirty and see how he responds. If it spurs him on and he seems to be more aroused, then carry on. If he joins in, then all the better, you don't have to suddenly become all potty-mouthed and start screaming obscenities, but asking him if he likes what you are doing and if he wants you to do it more is a good place to start. Go with the mood and see where it takes you.
Some Men Love to Be Dominated
While some guys like to be in control and like to get their own way in the bedroom, others are quite happy to sit back and let a woman take control. Tell him what you are going to do to him and then tell him what you want him to do to you. If you want to take it further, you can tie him up and have your way with him. Whether you do this slowly and seductively or more assertively is up to you, but you will be able to gauge his pleasure form his response. If you really hit the spot, you may find yourself accomplishing the task too soon, though, so be warned, especially if this is new to him.
Biggest Turn-on for Guys
There are so many things that you can do in the bedroom to pleasure your man. From kissing his neck and then working your way down his body and giving him the best oral sex he has ever had, to dressing up in a slutty costume and engaging in role-play, everyone is different. The things you do may depend on the mood. Whether you are making love or having more aggressive sex will depend on the level of heat that you turn up and how hot you are for each other. Go with the situation and have a few tricks up your sleeve that suits the mood from touching yourself while he watches to make it all about him, there are many things that will get his motor running.
Relax and enjoy yourself, and don't feel that you have to do anything that makes you uncomfortable. If this is a new relationship, then it may just be a matter of introducing new things slowly. Not advisable to go full-on dominatrix on your first date or pulling out all manner of sex toys! Learn what he likes and try things that he hasn't mentioned. Don't be put off if he doesn't like one particular thing – the fact that you are making so much effort is a big enough turn on in itself. Enjoy discovering each other's bodies and what you each respond to. Who knows, you may even find new things that you didn't know you liked!