Fun Sex Games to Play via Text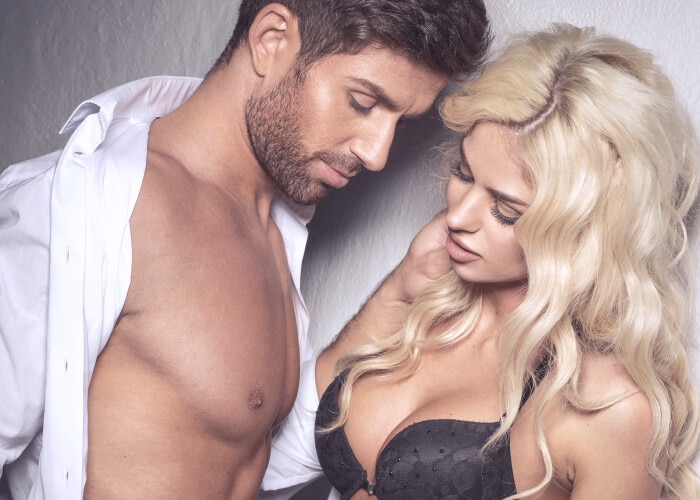 Sexting can seriously turn up the heat in your relationship with your partner. Whether you're in a long-distance relationship and you want to turn them on from afar, or you're at work, and you want to get them excited for what's in store when you get home, sexting is the perfect solution. It can really help to keep the spark between you alive when you're apart. Sexting games are ideal if you're both shy, and you're more comfortable talking over text than having to say things aloud. Here's our list of the best text sex games for you to enjoy.
Would You Rather?
You may already be familiar with this much-loved game. It's one of the best sex games to play over text as you can easily put a naughty twist on it by making the questions about sex. For example, you could ask, 'would you rather me kiss your cheek or your neck?' or 'Would you prefer to make out in the car or the kitchen?' What's great about this flirty game is that you can start slowly with some tame questions and then build up to increasingly dirty ones once you've both become more comfortable. It's a great way to have fun with your partner while finding out all about what they like and dislike sexually. You may find that it leads to conversations later on about how to enhance your shared sexual connection.
Treasure Hunt
The treasure hunt is undoubtedly one of the top flirty games to play over text. Next time you're at your girlfriend's house, simply leave something behind but be surely hiding it so she won't come across it accidentally. It could be some sexy massage oil, a sex toy, or even some new naughty lingerie that you'd love to see her in. A few days later, text her and let her know that you've left something kinky for her to find. Offer them clues to help her find it (and then maybe enjoy it together next time you hook up!). This is one of the sexiest texting games for couples.
Truth or Dare
If you're looking for dirty texting games, look no further than truth or dare. Most people have played this fun game at some point, and playing over text allows you to be even naughtier. Just because you're texting rather than playing this classic game face to face, it doesn't mean things won't get extremely steamy indeed. After all, this is basically a competition to see who can get whom to reveal the juiciest secret or do the most outrageous dare. Needless to say, it's perfect for horny couples! If they choose truth, you can ask them anything you really want to know, such as what is their favorite sex position, or how many sexual partners have they really had. When it comes to dares, the sky's your limit – why not get them to send you a dirty photo or a striptease via video?! It's no surprise if considered one of the most freaky texting games.
Guess the Body Part
If you're a visual person, this is one of the best sex games to play over text. All you need to do is take a close-up photo of a part of your body and then send it to your partner so they can guess what it is. Avoid using filters, but feel free to adjust the lighting to make your photos even sexier. One way to keep things interesting is to switch between sexy parts like your ass to regular parts like your arm. Keep in mind that the idea of this game is to be sneaky. Whoever wins the game gets a prize next time you meet up!/p>
Emoji Interpreter
This is one of the most fun sex games to play with your girlfriend over text. While lovers once communicated their sexy desires via handwritten notes, today, it's popular to swap combinations of sex emojis. If you're new to sexting, you might find deciphering them difficult, with emojis like eggplants, peaches, fires, and water droplets still being somewhat of a mystery! The more you use them, the more you'll get a handle on them. Emoji interpreter is one of the most fun long-distance sex games, with plenty of opportunities for being very dirty indeed! To play this kinky sexting game, type a sentence using only emojis, and then ask your partner to reply. If they're able to decipher your message, you can then give them a sexy prize!
Are Text Sex Games Good for Couples?
Many sex and relationship therapists recommend sexting for couples. In many ways, it's the perfect form of foreplay, providing a fun and sexy way to stay connected when you're not together physically. Sexting keeps sex on the brain all day, keeping couples excited about reuniting. What's great is that you don't need an expensive mobile phone to enjoy sexual games over next, nor do you even need to be connected to the internet. Sexting is fun and easy and accessible to nearly all couples. If you want to try sexual texting games but your partner is a little apprehensive, start slow to ease them into it. Once they become more comfortable with sexting, you can begin getting a little more dirty and daring. Take it slow and steady, and you can rest assured that your partner will be left wanting more! There are so many sexy games to play over text that you'll never run out of new ideas! Whether you're trying to make your long-distance relationship more exciting or you're simply looking to add some spice to your sex life, sexting is a great option. Keep in mind that timing is everything when it comes to sex texting, so it makes sense to make sure they're free before sending a raunchy message. After all, the last thing you want to do is get your partner all hot and bothered before they go into an important meeting at work!