Kinky Things to do in Bed With Your Girlfriend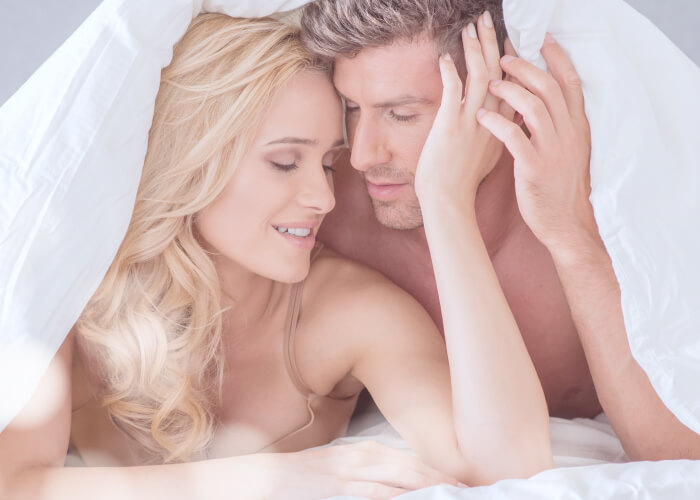 Are you stuck in a sex rut? If so, you can rest assured that you're not alone. Many people lose the spark in between the sheets when they've been with their partner for a long time, and things can begin to get distinctly predictable. You probably find yourself following that all too familiar routine and using the same old moves to turn her on. The thrill and excitement you once shared in the bedroom can soon start to disappear. There are many reasons why you may have become stuck in a sex rut. Perhaps a busy work schedule or raising children leaves you feeling exhausted, and you just don't have the energy to think of kinky things to do in bed. Or maybe you're shy and don't feel confident enough to tell your partner about your kinky sex ideas. Whatever the case, if you need to take steps to get your mojo back. Here's how to surprise your girlfriend in bed (in a good way!).
Our List of Kinky Things to do in the Bedroom
If you feel like your sex life with your partner has become boring and run of the mill, it's time to do something about it. The truth is, the longer you've been with her, the more your sex life is going to suffer. Fortunately, you don't need to break things off with her to enjoy the sex you've been fantasizing about. There are plenty of simple ways you can stop the monotony and really spice things up between you.
Sexting
Several years ago, before everyone had mobile phones, the dirty talk was reserved for the bedroom. These days, you can enjoy sexting conversations whenever you like and wherever you are, allowing you to turn your partner on even when you're not physically with them. Sexting refers to sending suggestive text messages or images via mobile phone, and what's great is that you can be as raunchy as you want. You could send the occasional rude emoji (think eggplant or peach!) to let your girlfriend know you're in the mood, or turn things up a notch with descriptive language and graphic pictures to show them what you'd like to happen next. Research shows that people who sext whilst in a couple are more satisfied sexually. This is largely because whilst people are often too awkward to talk dirty in bed due to pressure to say exactly the right thing at the moment, sexting gives you time to craft the perfect response.
Roleplay
If you're looking for kinky things to do to her in bed, consider role-play. Women absolutely love dressing up and getting into character as it lets them abandon their inhibitions and act our their biggest sexual fantasies. Role-play enables you both to enjoy different sexual energies and achieve variety in the bedroom without having to play the field. Roleplay is incredibly hot and sexy, but there are hidden benefits too. For example, it can help you to find out more about your partner, allowing you to explore each other's biggest desires in a safe environment. Roleplay is one of the most popular naughty things to do in bed, with many couples trying it at some point in their relationship. One of the easiest ways to start role-playing is to meet a bar with different names. This can make you feel very liberated and more able to tell each other what you really want.
Get Out of Bed
If you really want to switch things up, it makes sense to get out of bed! Sliding between the sheets is easy and comfortable, but it's a good idea to take it beyond the bedroom from time to time. A change of scenery can certainly be one of the simplest ways to spice up your sex life. Your kitchen may be the furthest you need to travel if you're looking for sex things to try outside of the bedroom. Hoist her up on the kitchen counter or take her against the fridge-freezer for some super-hot lovemaking. There's something about getting frisky near the dirty dishes that can be so sexy! One of the kinkiest things guys like is car sex, so why not show your girlfriend a good time on the passenger seat? Cozy and snug, a car provides the perfect setting to get hot and heavy - just make sure you're not moving at the time!
Play Kinky Games
If you're looking for dirty sex ideas, why not play some games to get everyone in the mood? You could play sexy trivia where you take turns asking questions about each other. For example, you could ask, "where was our first date?" or "what song was playing when we first kissed?" If they get the question right, they have to take off an item of clothing. Another idea is to use sex dice during foreplay. It can seriously heighten the sexual atmosphere, leaving you both incredibly turned on. Instead of numbers, the sides of a sex dice have the names of various body parts. The body part that faces up when the dice is rolled should then be given sexual attention!
Head to an Adult 'Toy Shop' Together
If you're looking for freaky things to do to your girlfriend in bed, it may be time to take a trip to your local adult toy shop. Using sex toys with your partner can seriously improve your sex life, lengthening foreplay and making orgasm far more intense. From vibrators and love eggs to cock rings and butt plugs, there are so many different options to choose from. Go shopping together and select the right tools to enhance your lovemaking. With some great sex toys at hand, you won't run out of freaky things to do to your girlfriend! The longer you've been with your partner, the more likely it is that your sex life has lost its spark. What was once sexy and surprising may now be routine and uninteresting. Don't despair, though – there are so many ways you can bring excitement back into your sexual relationship with your girlfriend. From sexting to role play to using sex toys, there are endless sex things to try in the bedroom (and outside of it too!)